Parkland Vet Clinic offers a wide range of veterinary services for pets in Spruce Grove, Stony Plain and surrounding area: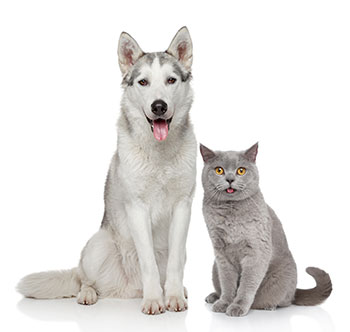 Pet wellness and vaccination programs to prevent illnesses
Animal medical services for diagnosing and treating health conditions
Pet surgery including spay and neuter
Pet dental cleanings and treatment to avoid serious dental diseases
And many more
We have our own in-house diagnostics, x-rays, ultrasounds and other testing procedures, so we get results back usually the same day allowing for quicker diagnosis.
Small Animal Hospital
We provide services for small animals including dogs, cats, guinea pigs, ferrets, hamsters and rabbits.
We do not provide care for birds or reptiles.
If you have a bird or reptile that needs a vet, please refer to our small animal reference page.
Regenerate and Rehabilitate Approach
Our clinic offers preventive, regenerative and rehabilitative medicine to ensure that both yours and your pet's needs are met optimally and in-house.
Two methods we use:
Surgery
Like their human companions, pets sometimes require surgery to enhance their lifestyle or to rid themselves of pain and severe diseases.
In most instances, your vet will determine whether your pet needs surgery by conducting physical exams, collecting data from x-rays, and looking at your pet's health history and risk factors based on his age, breed, and general animal history. On other occasions, surgeries may occur on an emergency basis.
The most common specializations include:
Elective surgery
Elective surgeries are optional procedures that are requested by their pet owners. These include surgeries such as spaying and neutering as well as select dental procedures.
Soft Tissue surgery
Soft tissue surgery targets the needs of cats and dogs who have conditions related to cardio thoracic, gastrointestinal, respiratory and urogenital systems and disorders involving the ear, nose and throat.
Orthopedic surgery
Orthopedic surgery for pets consists of invasive and non-invasive surgical procedures that tackle joints, skeleton/the skeletal system, and associated soft tissues, which includes muscles, joint muscles, tendon, ligament, and cartilage.
Each of these target a different localized area or need of your pet.
Parkland Veterinary Clinic specializes in these surgeries:
Urinary Tract Surgery: Cystotomy (bladder stone removal) and urethrostomy
Ear: Aural Hematoma repair, Lateral Bulla Osteotomy
Fracture Repair including plating, pinning, and cerclage
Hip Surgery: Femoral Head Osteotomy, Triple Pelvic Osteotomy
Medial Luxating Patella Repair
Cranial Cruciate Repair: Lateral stabilization, TPLO, TTA, Orthozip
Popular questions about pet surgery are answered here.
Nutrition Consultations
During your pets annual checkup, a particular diet may be recommended to better your pets health. Conditions such as obesity, osteoarthritis, kidney disease, diabetes and many others all require a special diet. Book a nutritional consultation with your vet or animal health technologist to learn more about preventative diets.
Read about our pet nutritional consultations here.
Emergency Vet Services
Unfortunately, accidents do happen.
When an emergency happens to your furry friend, we are here for you. Pet parents can have peace of mind knowing that they can bring their pets to us with or without a scheduled appointment during our office hours.
Read more about our Emergency Vet services and what to do in case of an emergency.
Schedule an appointment for your pet at our clinic.
If you're ready to see our expert veterinary team in Spruce Grove, call Parkland Vet Clinic today at (780) 962-6300 or make an appointment now.